What is Spirit tv
®

, anyway?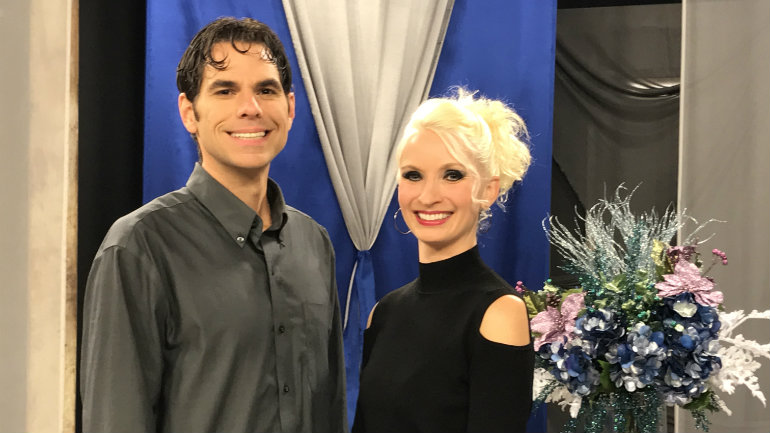 Meet your hosts: John and Karrie
Our hosts guide you through the music and share positive, uplifting thoughts with you every day on Spirit tv!
We will
change

your

atmosphere

!

When we say we built this channel just for you, it's no lie.

We're keeping things simple on Spirit tv — playing a ton of music videos! You'll see brand-new videos from artists you haven't seen before, plus classics you might already know. We believe this music can strengthen your faith and help change your attitude towards life. In fact, we believe it's music that will change your atmosphere!

Spirit tv features music 24/7 from artists like the Newsboys, MercyMe, Jamie Grace, Toby Mac, and many more. Along with uplifting words from our hosts every day, you'll also see special music and ministry programs from time to time, always designed to encourage you and your family. No need to worry about changing the channel... just leave Spirit tv on all day while you work and play at home!

Believe it or not, Spirit tv has

no commercials

and

no corporate funding!

Instead, Spirit is supported financially by viewers just like YOU. You can help this continue by making

your tax-deductible donation

today!

Join the tens of thousands who are watching Spirit tv's channel on Roku, streaming online here at MySpirit.tv, and even through other outlets which may carry Spirit's programming through traditional broadcast, cable, or satellite channels.

Now you can tell your friends that someone has finally built a positive, uplifting music video channel just for you and your family! Thanks for watching and supporting Spirit tv!
Spirit tv is supported ONLY by people like YOU!
The music and message transmitted here bring
life
to people every day. You can help this continue for you and
countless others
by making your tax-deductible donation today!
You can also manage your existing donation, or use our contact form below to ask for help!
Contact Spirit tv
Have a comment about Spirit tv? A way to help us make Spirit even better, or a song request? Maybe a question about your financial support? Connect with us here!
Contact us offline
Spirit tv
PO Box 1887
Westerville, OH 43086
Questions about your financial support? 877-855-GIVE
Follow our socials
Privacy policy
Spirit tv values your privacy as much as you do, which is why your personal information will never be shared with any other organization.
Information you provide. There are a few activities on our sites where the collection of personally identifiable information is necessary. Those activities include things like entering a contest, making a song or video request, making a donation or purchase online, or signing up for a newsletter. When personally identifiable information is collected, you will know because you will have to fill out a form. For many activities, we collect only your name, e-mail address, age, gender, and zip code. When you make a donation or purchase online, we also securely collect your mailing address, your phone number, and credit card information. Information is not intentionally collected from individuals under thirteen years of age without parental consent.
How we use this information. We use the information to complete transactions. For instance, if you purchase a CD from our online music store, we use your information to process your order; or if you contact us for help we will use the information to contact you. We use information collected to notify you if you've won a contest. Information we collect is used to send you e-mail updates and newsletters about our sites. We do not make your personal information available to any third party, including advertisers or other charitable organizations.
To be removed from our lists. It is possible for you to use our sites without giving us any personally identifiable information. When you do register with us or give us personally identifiable information, you can easily unsubscribe from e-mail updates and newsletters by asking to be removed from our lists by following the instructions provided in the correspondence from us.
Security. The importance of security for all personally-identifiable information associated with our guests is of utmost concern to us. When you provide credit card information, we use secure socket layer (SSL) encryption to protect it.
External links. Links pointing to external sites will take visitors to sites over which Spirit tv has no control. Spirit tv assumes no responsibility for the content contained at such external sites or for the accuracy of any information found there. The content of any site or link not maintained by Spirit tv does not necessarily reflect the opinions, standards, or policies of Spirit tv or its employees.
To contact us. If you need further assistance, please contact management with your questions or comments through our online feedback form. Or, you may call us at 614-839-7100. We can also be reached by mail at Spirit tv, PO Box 1887, Westerville, Ohio 43086.